Gunsmithing Tips & Projects,
a collection of the best ideas,
second edition from Rifle Magazine
A collection of the best gunsmithing articles from twenty years of Rifle magazine. This soft cover second edition has been expanded to 547 pages, filled with articles on modern and antique gunsmithing projects, suggestions for finishing wood and metal, improving accuracy, decorating stocks, selecting and improving tools for the serious gunsmithing shop.

Includes a number of excellent articles by the late John Bivins Jr. on muzzleloading building techniques. Muzzle loading kit assembly ideas, restoring antiques, and scratch building a Billinghurst underhammer action are topics of interest.

The Table of Contents includes the following:
Section 1: The Shop

Starting Your Shop
Jigs & Fixtures
Roller Bearing Steady Rest
The Slack Belt Sander
Machinery for the Home Gunshop
Screwdriver

Section 2: Stocks

Recoil Pad Installation
Checkering Target Stocks
Professional Approach to Stock Sanding
Professional Approach to Stock Finishing
Stocking the Ruger No. 1
From Blank to Beautiful Stock
Layout, Inletting, Fitting
Converting Impressed Checkering
Inletting a Muzzleloader
Professional Checkering for the Amateur
Selecting Stock Finishes
The Many Uses of 'Fiberglass'
New Techniques for Fine Stock Finishing
Inletting the 'Swamped' Octagon Barrel
Inletting the Sidelock
Installing an Action Bedding Block
Building a Barrel-Bedded Magnum
Relief Carving the Gunstock
Bedding the Browning 78
The 'Express' Oil Finish
Ruger Number 1
The Rigid Ruger
Basic Gunstocking the Flintlock Rifle - Layout and Inletting
Basic Gunstocking the Flintlock Rifle - Design and Shaping
The Properties and Curing of Gunstock Woods
Gunstock Inlays - Sheet, Composition, and Cast Inlay
Gunstock Inlays - Silver Wire Inlay
Using an Electric Checkering Tool
Advanced Gun Stock Carving - Study and Tools
Advanced Gun Stock Carving - Carving and Finishing
Moisture in Stock Blanks
Bedding with Epoxy
Make a Skeleton Grip Cap
Dimensional Stability of Stock Wood
Care and Feeding of Gunstocks
Hand-Sanding Hard Maple
Stock Options of the Synthetic Kind
Installing a Recoil Pad
Free Floating a Barrel
Repairing and Replacing Buttplates
Glues and Epoxies
Installing Sling Swivels
Cracked Stocks
Stock Pitch

Section 3: Tuning

"Shrink" Groups with Some Home Gunsmithing
Tuning Bolt Actions
Tuning Ruger's Single Shot
Tuning the Levers
Fundamentals of Accuracy
Smoothing Bolt Actions
Slicking the Savage 99
Tuning the New Hornet Rifles
Making a Garand Shoot Accurately
Making Revolvers Shoot
Correcting the Revolver's Critical Dimensions
Remington Models 721, 722 and 700 Extractors and Ejectors

Section 4: Barrels & Chambering

Barrel Fitting
Barrel Rejuvenation
The Damp-Box for Rust Browning or Blueing
Precision Barrel Fitting
Fitting and Chambering Barrels, Benchrest Style
Building an Action Sleeve
Instant Blue
Chamber Casting Alloy

Section 5: Triggers

Pro Gunsmithing Trigger Tuning
Making a Steel Trigger for the Ruger No. 1
Springfield Firing Mechanism

Section 6: Problem Solving

Feeding Problems
Trouble-Shooting with a Dial Indicator
Detecting Correcting Effects of Excess Headspace

Section 7: Odd Jobs

Building a Schuetzen Rifle
Making a Billinghurst Action
Modifying a Single-Shot Lever
Proper Scope Mounting
Investment Casting
Another Approach to a Light Rifle
Ultra-Light Sako
Adjusting and Replacing Traditional Open Sights
Fitting a Barrel Band Sling Swivel Stud
Field Repair of a Broken Wrist
Scope Mounting: Beyond the Basics
Fixing Slotted Screw Heads
Soldering
.22 Rimfire Magazine Tubes
Holes for Sight Mounting Screws
Making and Replacing Metal Screws
Lubrication
Basic Maintenance - Rimfires
Iron Sights and Leverguns
Stock Cross Pins and Cross Bolts

Section 8: Customizing

M1 Conversions
Making a Bullet Mold
Simple Scope Mounts for "Collector" Military Rifles
Metal Finishes for the Custom Gunsmith
The Crowning Touch
Making Springs to Fit the Need
A Handy Case-Mouth Gauge

Section 9: Muzzleloaders

Precision Assembly of Lock Kits
The Forge-Welded Rifle Barrel - Part I
The Forge Welded Rifle Barrel - Part II

Section 10: Restoration

New Life for Old Rifles
Restoring Antique Firearms - Part I
Restoring Antique Firearms - Part II
Restoring Antique Firearms - Part III


ISBN: 978-1-879356-83-2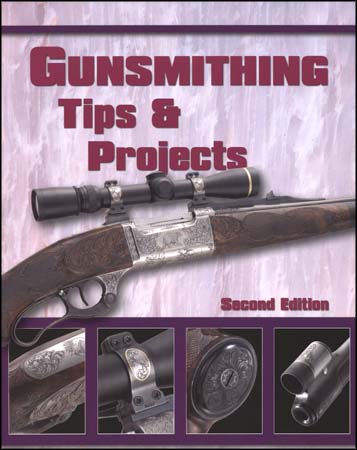 Track of the Wolf, Inc.
18308 Joplin St NW
Elk River, MN 55330-1773
Copyright © 2023Track of the Wolf, Inc.