Building a Swivel Breech,
includes color photos, construction notes and drawings,
with tips on building a complete rifle,
by Dave Waters
The intent of this book is to show the essentials of what goes into building the "heart" of a swivel rifle, namely the action. After you study these pages you should have a valuable road map for building one. Soft cover spiral bound, 24 pages, color photos, and black and white dimensioned blueprints.


The Table of Contents includes the following


Views of a Swivel Breech Rifle
Views of a Swivel Breech Pistol
Index
Introduction
Pictorial Index of Sub-Assemblies
Parts list
Swivel Sub-Assembly
Frizzen & Pan Sub-Assembly
Lock Sub-Assembly
Swivel Release Sub-Assembly
Top Strap & Trigger Sub Assembly
Triggerguard & Sub-Assembly
Patent Hook Breech Sub-Assembly
Swamped Barrel
Miscellaneous Notes on Building A Rifle


Same day shipment, when you click ADD TO CART and complete shopping cart check out. Inspect the item, return it for same day refund if not delighted. You will be pleased with your choice. You pay postage, your only risk.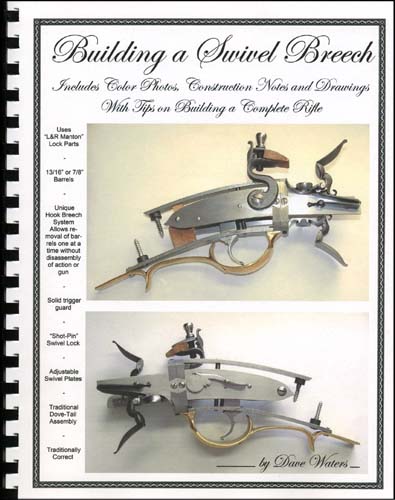 Track of the Wolf, Inc.
18308 Joplin St NW
Elk River, MN 55330-1773
Copyright © 2022Track of the Wolf, Inc.