| | |
| --- | --- |
| Our "New Reliable" Wax Cast Steel Tomahawk, two tapered hickory handles and Knife & Tomahawk Throwing Book | |
This set includes our most popular throwing 'hawk, sometimes called the "octagon tomahawk" because of the decorative flats on the carbon cutlery steel blade, the book Knife & Tomahawk Throwing by Barry Hardin and two 18" tapered hickory handles.

The blade edge of this tomahawk is just over 4" in arc length, the NMLRA legal limit. It requires quick sharpening before use to qualify for NMLRA match rules. The head is wax cast alloy steel and weighs 13-3/4 ounces. Made in the U.S.A.

#Book-KTT: This book covers the basics of throwing both tomahawks and knives, including weapon styles, hand and feet positions, throwing techniques, making targets and game rules. Instructions are shown using full color photos and illustrations. A must have for any amateur or competition thrower. Soft bound, 9" by 6" format, color photos, 60 pages.

Helpful Hints:Never use a split wedge, or glue to retain a tomahawk handle. Our tapered handles are a perfect fit when driven in from above. They are designed to pop out if mis-thrown to minimize breakage. You may elect to stain, scorch, oil finish, or kerosene soak (oil temper) your handles, or allow them to develop a natural patina from normal use.

Be sure to carry a few spare handles with you to the Rendezvous. If the boy's play "all tomahawks thrown at the card, before any is removed", you may soon need a spare handle!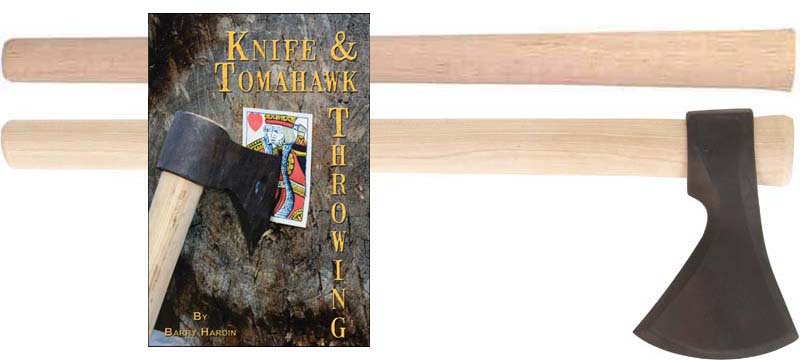 Track of the Wolf, Inc.
18308 Joplin St NW
Elk River, MN 55330-1773
Copyright © 2023Track of the Wolf, Inc.