Pattern for Ladies Outing Jacket,
two long coats, three jackets, one vest,
all sizes 8-20, complete instructions
Make your own Ladies Outing Jacket. Late 1880's to late 1890's styling. In the late 1880's dark, rich colors (mahogany, rust, dark blue) were favored, giving way to the jewel tones (bordering on garish) in the later years (purples, bottle greens, royal blue, ruby, and magenta). Black was always considered correct. Complete instructions. Order this nice pattern today!

Suggested Fabrics to Use: Always use natural fiber fabrics for historical clothing! Cotton, wool, silk, Rayon, corduroy, denim, heavy wool flannel, gabardine, brocade, velvet, velveteen, tapestries, moire, damask, taffeta.

Materials:

Vest, plain back

| | |
| --- | --- |
| Fabric with nap | Vest, plain back |
| 44" wide | 1-7/8 yards |
| 54" wide | 1-3/4 yards |
Jacket, plain or split back
| | |
| --- | --- |
| Fabric with nap | Jacket, plain or split back |
| 44" wide | 3-5/8 yards |
| 54" wide | 2-1/2 yards |
Jacket, bustle back
| | |
| --- | --- |
| Fabric with nap | Jacket, plain or split back |
| 44" wide | 3-7/8 yards |
| 54" wide | 3-1/2 yards |
Long Coat, split or bustle back
| | |
| --- | --- |
| Fabric with nap | Long Coat, split or bustle back |
| 44" wide | 6-5/8 yards |
| 54" wide | 5-1/2 yards |


Notions: Thread, Buttons 1/2" or larger 12 for size 6, 13 for size 8 & 10, 14 for sizes 12 to 20. For split back version add 9 buttons. For long version add 11 buttons. Shoulder pads: 1 pair 1/2" thick set in type, and 1 pair extra thick Dolman type. Narrow braid or ribbon for Split back version, 6-1/4 yards. Interfacing 25" wide: Short jacket 5/8 yards, Long coat 1-7/8 yards.

Same day shipment, when you click ADD TO CART and complete shopping cart check out. Inspect the item, return it for same day refund if not delighted. You will be pleased with your choice. You pay postage, your only risk.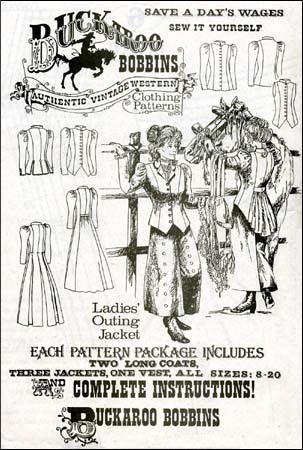 Track of the Wolf, Inc.
18308 Joplin St NW
Elk River, MN 55330-1773
Copyright © 2023Track of the Wolf, Inc.