Pattern for Britches,
sizes 28 to 52,
complete instructions
Worn from the Civil War through the late 1800's. The size is the measurement at the waist of the britches. These are higher waisted than modern jeans. Hips are about 2-3 inches larger. It is a good idea to make a muslin to check for fit before cutting the "good" fabric. Inseam is approximately 34 inches long.

Suggested Fabrics to Use: Mid to heavyweight fabrics: Demim, Canvas, Corduroy, Twill, Homespun, Wool Flannel, Lining fabric should match in color to the outer fabric: Lightweight Twill, Chambray, Broadcloth, Poplin.

Materials: Note you may want to make the Inseam Panel from soft leather: you'll need a piece 45" x 22", or two pieces 45" x 11" each. Reduce fabric requirements by 1/4 yard.


Fabric with Nap
Sizes 28-40
Sizes 42-52
44" wide
2-7/8 yards
3-7/8 yards
54" wide
2-1/2 yards
3-1/2 yards
Lining
36" to 44" wide
1/4 yard


Notions: Thread, 6 buttons 5/8" in diameter (5 for sizes 28 to 34), 6 snap together "Bachelor Buttons" for the suspenders, a 1 in wide 2- prong button, cotton twill seam binding 1/8" yard.


Same day shipment, when you click ADD TO CART and complete shopping cart check out. Inspect the item, return it for same day refund if not delighted. You will be pleased with your choice. You pay postage, your only risk.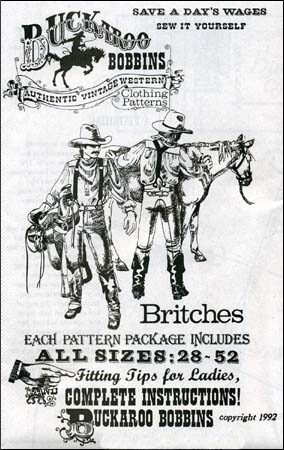 Track of the Wolf, Inc.
18308 Joplin St NW
Elk River, MN 55330-1773
Copyright © 2023Track of the Wolf, Inc.