L&R's RPL-06-F Flint Lock,
a fine early Ketland style flat faced lock,
to upgrade Ted Hatfield's longrifle,
the Davide Pedersoli Frontier longrifle,
or Cabela's Blue Ridge longrifle,
right hand only, made in the USA,
by L&R Lock Company
This right hand flint lock will replace Davide Pedersoli's flint locks, used on his Frontier, Blue Ridge, or Hatfield marked flint locks.

The lock plate is drilled for the lock bolt, and the lock mounting bolt is included.

Overall length 5-5/8" long x 1" tall, right hand only. Includes instruction booklet. We recommend our 7/8" wide hand knapped flint by Tom Fuller, our #FLINT-ENG-7.

This smooth working large flint lock is a popular choice with gun makers creating new longrifles using only best American made parts, as well as retro-fitting the Hatfield, Frontier, and Blue Ridge rifles, all made by Davide Pedersoli, Italy.



This lock is shown at exact-full-size, in Track's new catalog for gunmakers and gunsmiths.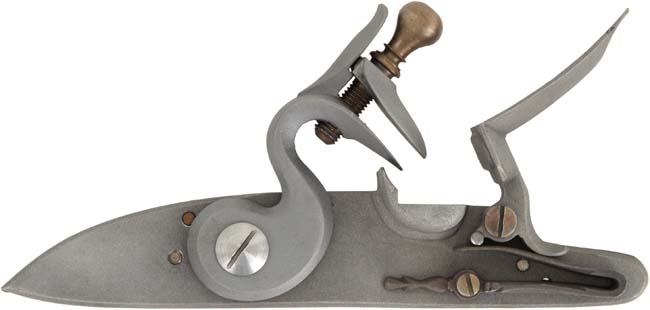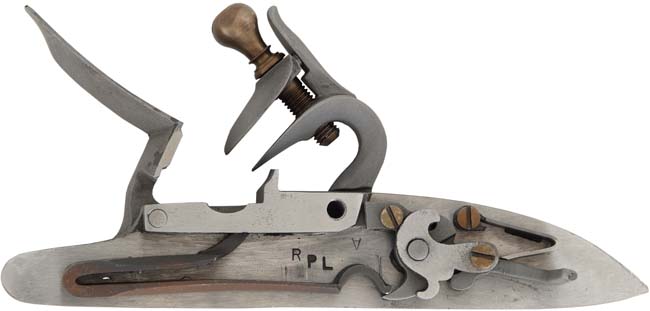 Track of the Wolf, Inc.
18308 Joplin St NW
Elk River, MN 55330-1773
Copyright © 2021Track of the Wolf, Inc.