Colonial American Flint lock,
two exposed screw version,
by R. E. Davis
This large Colonial flint lock is ideal for an American longrifle or fowling gun, of the 1750-1770 era, with it's large size and pointed tail. Assembled, tuned, and signed by R. E. Davis. Use is on an early longrifle, .50 to .62 caliber, with a simple brass or sliding wooden patchbox. Such "French & Indian War" era rifles are shown in Rifles of Colonial America ­Volumes 1 & 2, by Dr. George Shumway.

Larger than Siler's large lock, this lock is a bit earlier with a flat face and chamfered edge. The frizzen is filed to a fancy shape, and the frizzen spring is very handsome, retained by a hidden blind screw. The pan is a integral part of the lock plate. Crisp flats on the pan mimic and amplify the octagon theme of the barrel. This lock is designed without a pan bridle to support the frizzen. The frizzen is tightly fitted to the pan, to keep your powder dry.

Fitted with a fly detent, this lock works equally well with set or plain triggers. The big mainspring is powerful, for speed and sparks. Use this large flint lock on an early longrifle with straight or swamped barrel of 15/16" to 1-1/8" octagon at the breech.

This lock is offered in two versions: the one screw lock has a blind sear spring screw hole, in Germanic fashion, causing the lock to appear to have only one internal screw, a minor detail, often found on very early guns; the two screw lock has both screws visible at the rear.



We recommend that you order a dozen Flint-#ENG-7 English 7/8" gun flints, too.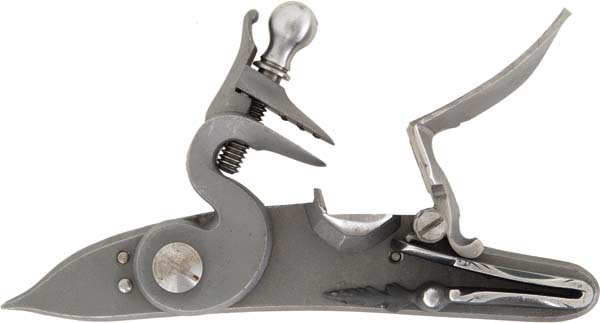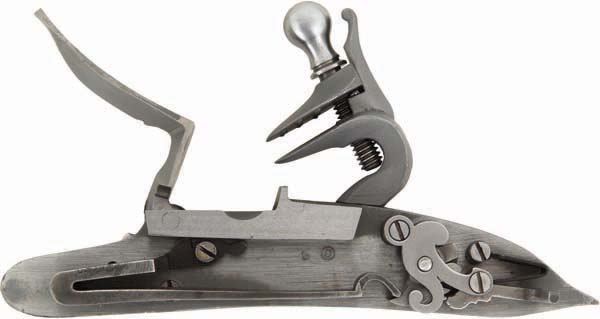 Track of the Wolf, Inc.
18308 Joplin St NW
Elk River, MN 55330-1773
Copyright © 2021Track of the Wolf, Inc.