Sketchbook '56
The French Marines,
1754-1761,
by Ted Spring
Specializing on items of the French Marines. Plans and drawings include fusils, halbreds, pipes, shirts, cartridge boxes, bayonets and sword carriages, French fly breeches, shoes, leggings canteens, tools, and more.

You can replicate many of the items shown, using the ideas, sketches, dimensions, and plans shown in this book. These ideas may inspire the hobby woodworker, amateur blacksmith, leather craftsman, or tailor. Softbound 8-1/2 x 11" format, with 64 pages and color cover.

The Table of Contents includes the following:
Table of Contents
Introduction
The French Marines
Recruiting and Duty
The Marine
Daily Life
Fortifications
Tomahawks, Axes, Knives and Swords
Bayonets
Justaucorps
Canteen and Tools
The Companies of Marines
Hardware and Odds n' Ends
Marine Arms
Halberd
Bail Seal and Pipes
Winter Season
Marine Cuisine
Bonnet du Police
Leggings and Gaitors
Officer Duty and Items
Shoes and Moccasins
French Fly Breeches
Conditions
Shirts
Cartridge Boxes
Bayonet and Sword Carriages
Waistcoat
Gunpowder
Artillery
Southwest Marine
Marine Justice
Acknowledgments
Reference
"Sketchbook 56" Vol. III Preview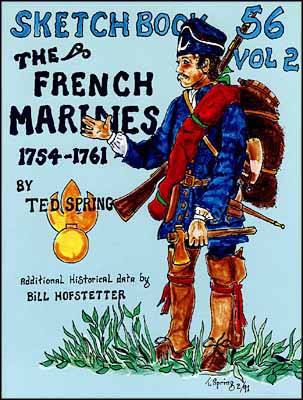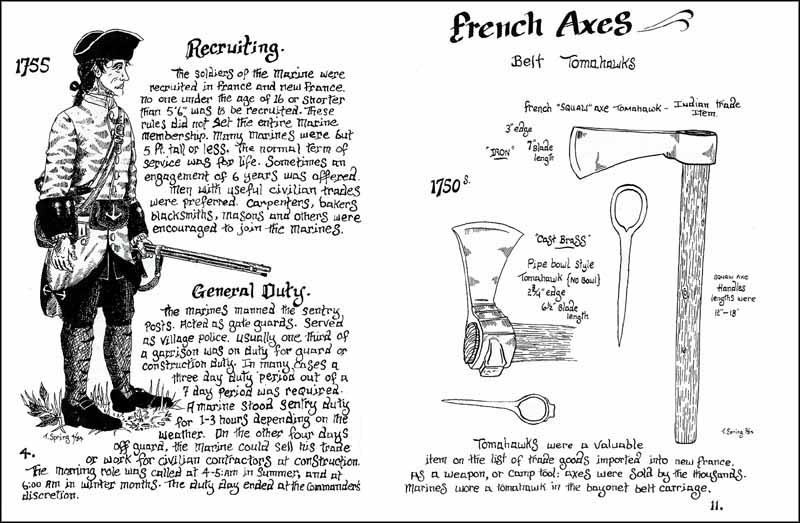 Track of the Wolf, Inc.
18308 Joplin St NW
Elk River, MN 55330-1773
Copyright © 2023Track of the Wolf, Inc.