Recreating the American Longrifle
by William Buchele, George Shumway, Peter Alexander
The late William Buchele was recognized as a true master longrifle maker. But his greatest contribution to muzzle loading must be this book. He shares the step by step details of his craft. His work has been enhanced by the editors. This book does not assume that the reader is an expert stock maker, but begins with illustrated explanations of the basic concepts. Buchele shows several alternate approaches to most tasks. Newly revised fifth edition.

Full scale plans include a carved longrifle and fullstock pistol. Over 250 photos and drawings within the 176 pages, 8-1/2 x 11" format, soft cover.

The Table of Contents includes the following:
Chapter 1 Some Thoughts on Building a Rifle
Chapter 2 Designing the Rifle
Chapter 3 Assembling Parts and Raw Materials
Chapter 4 Tools and a Place to Work
Chapter 5 Order of Procedure
Chapter 6 Laying Out the Rifle on the Stock Blank
Chapter 7 Installing the Breech Plug in the Barrel
Chapter 8 Cutting the Barrel Channel
Chapter 9 Making the Ramrod Groove and Hole
Chapter 10 Installing the Lock
Chapter 11 Shaping and Inletting the Barrel Tang
Chapter 12 Installing the Buttplate
Chapter 13 Planning and Initial Shaping of the Lock Region and Wrist
Chapter 14 Shaping the Buttstock
Chapter 15 Triggers
Chapter 16 Inletting the Trigger and Triggerguard
Chapter 17 Barrel Loops
Chapter 18 Barrel Loop Keys
Chapter 19 Making and Installing Ramrod Pipes
Chapter 20 Forestock and Muzzlecap
Chapter 21 Sideplate
Chapter 22 Lower Butt Molding
Chapter 23 Sliding Wood Patchbox Lid and Cavity
Chapter 24 Metal Patchbox
Chapter 25 Installing the Patchbox and Release Mechanism
Chapter 26 Toeplates
Chapter 27 Inlays
Chapter 28 Engraving
Chapter 29 Carving
Chapter 30 Metal Ribbon Inlay
Chapter 31 Wood Finishing
Chapter 32 Sights
Chapter 33 Touch-hole
Chapter 34 Bluing or Browning the Barrel
Chapter 35 Ramrods
Chapter 36 Lock Notes
Chapter 37 Sling Swivels and Sling
Chapter 38 Pistol Making Notes
Reference Books for the Rifle Maker
Books About Antique American Muzzle-Loading Arms
Source for Parts, Tools, and Supplies for Making Muzzle-Loading Arms
Books & Tapes on Muzzle-Loader Gunsmithing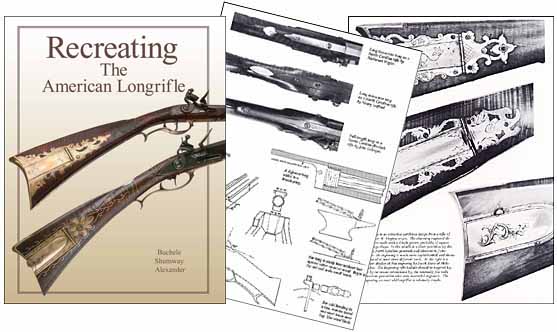 Track of the Wolf, Inc.
18308 Joplin St NW
Elk River, MN 55330-1773
Copyright © 2021Track of the Wolf, Inc.