Knife Throwing Like the Pros,
Throwing Techniques, Knives & Axes, Rules, Mental Preparation & More
by Peter Kramer
Gives budding knife and ax throwers valuable tips for getting started in throwing and how to prepare for your first competition. The mental aspects of knife and ax throwing at a competition are also addressed. This book covers throwing techniques, the basics of competition rules, legal issues to understand, and the care of throwing knives and axes. Instructions are shown using full color photos and illustrations. A must have for any amateur or competition thrower. Hard bound, 9" by 6" format, color photos, 174 pages. By Peter Kramer.

The Table of Contents includes the following:

Preface
Acknowledgments
The Throwing Knife as Sports Equipment

The Right Choice
The Balance Point
The Handle Qualities
Common Throwing Knifes
Knife Models of Small Manufacturers

Learning How to Throw Knifes

The Important "Basics"
The "Indiana Jones" Basic Exercise
Extracting

The Target

Targets of Soft Wood from Deciduous Trees
Targets of Coniferous Wood

Safety
The Short Whiplash Throw
The Basic Throw
Error Analysis: Analyzing Failures and Correction

Trail and Error
Form or "Luxury" Errors
Complete Misses

Position and Stance

Normal Foot Positions
Other Foot Positions

Further Development of Your Training
Alternate Grip Variants

The "Pinch" Grip
The "Clamp" Grip
The "Wild West" Blade Throw
The "No Spin" Grip

Knife Throwing and Self Defense
The Axe as a Piece of Sports Equipment/li>

Throwing the Ax

About the Principles
The Center of Gravity

Basic Training
Some Material Science
The "Reverse" Ax Throw
Good Throwing Axes
Loose Fit: A Common Ax Disease
The Meditative Effect of Knife and Axe Throwing

The Thrower Tunnel Vision
The Potato Chip Effect

Material Care and Maintenance

Blade Maintenance
Conservation
Straightening Blades
Transport

Useful Tricks and Means
The Best Age
How "Sportsmanlike" Is Knife and Ax Throwing?
Sporting Competitions, Thrower Meetings, Championships, and Rules

The Basic Conditions
The Competitive Situation
Coping with Stress
Disciplines and Rules
Rules for Knife and Ax Throwing
The Grand Finale
Other Disciplines and Sideshows
The Mountain man Contest

Throwing: Always a Matter of Nerves
Knife Throwing in the Media
The Legal Side
Gazing at the Crystal Ball
A Few Closing Words
The Author
Tips by the World Champion
ISBN 978-0-7643-6063-3

Order your throwing knives, tomahawks and replacement handles from Track of the Wolf below!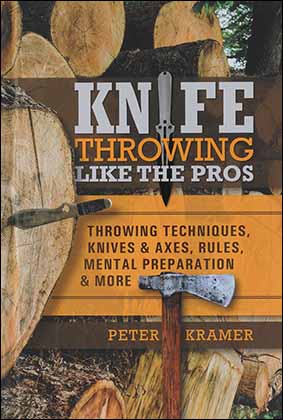 Track of the Wolf, Inc.
18308 Joplin St NW
Elk River, MN 55330-1773
Copyright © 2023Track of the Wolf, Inc.