Gun Powder Cans & Kegs,
by Ted & David Bacyk & Tom Rowe
Old powder cans and kegs are colorful, historical and highly collectible, catering to a variety of interests. The Bacyk collection is probably the most extensive assemblage of powder cans, kegs and related memorabilia in existence. The quality, rarity and scope make this collection extraordinary. To date there have been minimal references for these collectors to determine rarity or value of cans and kegs. This book is focused on the major American manufacturers: du Pont, Laflin & Rand, American Powder, King and Hazard, plus their related companies. Hardcover, 268 pages, full color.

The Table of Contents includes the following:
Foreword
American Powder Co.

Mass Powder Works
American Powder Co.
American Powder Mills

DuPont
Hazard Powder Co.
Ohio Companies

Miami Powder Co.
Austin Powder Co.
Cleveland Powder Co.
King's Great Western & King

Laflin & Rand

Rogers
Laflin
Laflin & Smith
Laflin, Smith & Boies
Smith & Rand
Laflin & Rand

Index


ISBN:1-884849-29-6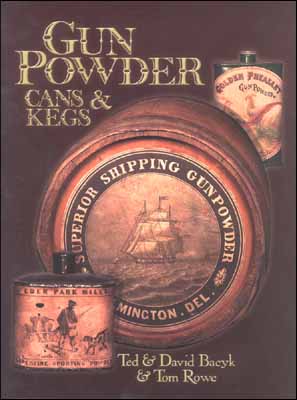 Track of the Wolf, Inc.
18308 Joplin St NW
Elk River, MN 55330-1773
Copyright © 2023Track of the Wolf, Inc.