Art of Building the Pennsylvania Longrifle,
an illustrated instruction manual,
by Dixon, Ehrig, and Miller
This large format builder's guide concentrates on the special techniques needed to recreate an authentic original style raised carved longrifle. Heavily illustrated with line drawings, this latest edition shows many currently available castings and components and discusses their finishing and installation. The authors include chapters on little known topics of wire inlay, patchbox release devices, engraving, as well as basic lock and trigger inletting. Comb bound, it opens and lays flat on your work bench. Large 8-1/2 x 11" format, with 180 pages.

The Table of Contents includes the following:

Chapter 1 History
Chapter 2 Before you Buy
Chapter 3 Breeching the Barrel
Chapter 4 Creating a Stock from a Blank
Chapter 5 Inletting the Barrel
Chapter 6 Cutting and Crowning the Barrel
Chapter 7 Tennons
Chapter 8 The Lock
Chapter 9 Installing the Lock
Chapter 10 Installing the Trigger
Chapter 11 Buttoning Up!
Chapter 12 Installing the Butt Plate and Toe Plate
Chapter 13 Installing Ramrod Thimbles, Tailpipe and Ramrod
Chapter 14 Installing the Nose Cap
Chapter 15 Installing the Trigger Guard
Chapter 16 Installing the Side Plate
Chapter 17 Final Shaping of the Stock
Chapter 18 Attachment of Inlays and Nose Cap
Chapter 19 The Patchbox
Chapter 20 Patchbox Release Mechanisms
Chapter 21 Carving and Wire Inlay
Chapter 22 Installing Sights
Chapter 23 The Touch Hole and Liners
Chapter 24 Staining and Finishing the Stock
Chapter 25 Browning the Barrel
Chapter 26 Engraving
Chapter 27 Some Notes on the Sport
Chapter 28 Chucks Notes: The Schimmel, Riflesmiths vs. Stockers
Chapter 29 Definition of a Muzzleloader
Additional Comments
Glossary
Bibliography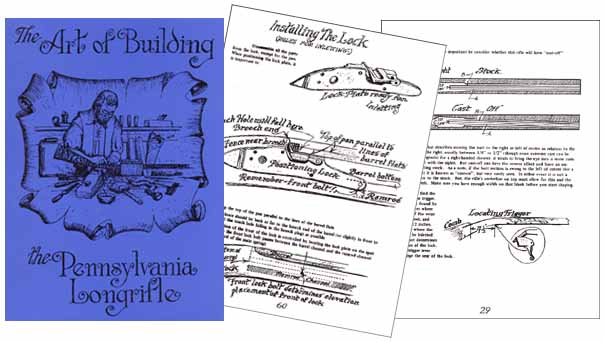 Track of the Wolf, Inc.
18308 Joplin St NW
Elk River, MN 55330-1773
Copyright © 2023Track of the Wolf, Inc.