Accouterments,
Volume Three,
by James R. Johnson
Third in the series, with more detailed photos of powder horns, knives, tomahawks, and other primitive accouterments from the 1750's thru the 1850's. Photographs of long guns by John. Armstrong, Wolfgang Haga, John Meals, John Rupp, and Vincent. Pistols by Goulcher, Hertzog, Small and Filman. Large photos with critical dimensions, and details of the materials used in the construction of the artifacts.

Hardcover, 240 pages, 8-1/2 x 11" format.

The Table of Contents includes the following:
Rifles
Pistols
Hunting Bags
War Clubs
Shot Pouch
Powder Measure
Fire Striker
Trouse
Salt Horn
Horn Container
Tomahawks
Knives
Powder Horns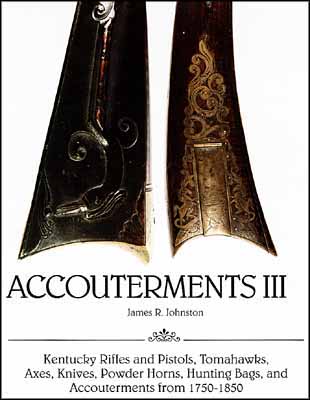 Track of the Wolf, Inc.
18308 Joplin St NW
Elk River, MN 55330-1773
Copyright © 2023Track of the Wolf, Inc.