Ramrod Worm,
10-32 female thread, for cleaning muskets,
removing patches, cards, wads,
steel, fits military ramrod
Our steel ramrod worm has two tines.

The female thread is made to fit the Model 1863 Remington "Zouave" Rifle, Springfield Rifled Musket, Italian made Harper's Ferry 1803 Rifle, Mississippi Rifle, and most other steel ramrods on imported military replica muskets.

Used primarily to pull patches, wads, and cards, this worm is ideal for use on guns with .50 caliber and larger bores. We do not recommend using this worm to remove a stuck ball. Instead, use our special Ball Puller screw ramrod tip, such as our #BP-58-10.

Originally used as a cleaning tip, a wad of "tow" was used instead of a costly woven cotton patch. Tow is the cotton and or linen fiber waste, accumulated when spinning thread from cotton or linen fiber. Spinning wheels were common in early America, as every woman and many men found it to be unpatriotic to buy imported thread, yarn, or fabric. We made our own, as a cottage industry in nearly every home.

Today, cotton balls closely resemble the "tow" fiber of the old days. A wad of cotton balls, wrapped around this ramrod worm, wetted with Track's best Bore Clean solvent, can quickly clean your gun's bore, at very low cost.

The female thread is a standard 10-32 thread. You may easily adapt this worm for use on our 10-32 ramrod tips, by inserting a short piece of 10-32 threaded rod, about 3/4" length. Or mount it to your steel military style ramrod.

Shotguns and fowling guns were often outfitted with patch worms, carried in the hunting pouch.

Click ADD TO CART for same day shipment. Ten day inspection begins at delivery. Send your approval. Else return it for same day refund, if not delighted. Postage is your only risk.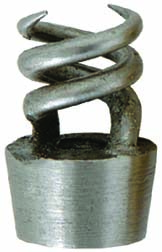 Track of the Wolf, Inc.
18308 Joplin St NW
Elk River, MN 55330-1773
Copyright © 2023Track of the Wolf, Inc.