| | |
| --- | --- |
| Underlug Staple, solid for barrel pins | |
Underlug staples are authentic,stronger, easier to install, and they remove less metal than dovetail lugs. Not suitable for thin walled barrels. Staples work well for keys, pins, or supporting a sling swivel.

Our UL-104-C staples are solid, for use with barrel pins, or to support swivel screws up to about .150" diameter. The bottom of this solid staple should seat firmly against the barrel. Drill .125" (1/8") holes .073" deep, or a tiny bit deeper. After drilling for barrel pin, consider elongating the hole, to allow barrel expansion when hot.

We recommend this solid staple for fullstock and halfstock rifles using our 3/32" barrel pins.

Made in the USA, of malleable steel, they are virtually unbreakable.

How deep should holes be drilled? Hold the lug with legs upward. Measure the amount of the foot extending beyond the body of the lug. Drill the hole this depth, to allow the bottom of the lug to seat against the bottom of the barrel.

Always leave .050" or more wall thickness under the lug holes.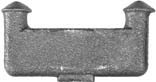 Track of the Wolf, Inc.
18308 Joplin St NW
Elk River, MN 55330-1773
Copyright © 2023Track of the Wolf, Inc.