Oversize Reforming Thread Taps,
to repair worn or damaged 1/4-28 threads, set of five
Each set contains five taps: .255-28 (+.005), .260-28 (+.010), .265-28 (+.015), .270-28 (+.020), .275-28 (+.025) over size 1/4-28 taps.

These are thread reforming taps. Use these taps, in sequence, to clean up a 1/4-28 thread. Install one of our matching oversize nipples. Never use a standard nipple in an oversize hole! Never use these taps to thread a new hole. Stop when threads are fully restored. Don't enlarge nipple seats unnecessarily.

Sturdy hardened steel. Use a tap handle. Use tapping fluid. Properly used, these should last a lifetime. They can be carelessly damaged, chipped, broken, and dulled. Not warranted against failure. Repairs are best performed by skilled gunsmiths, experienced machinists, or serious hobbyists.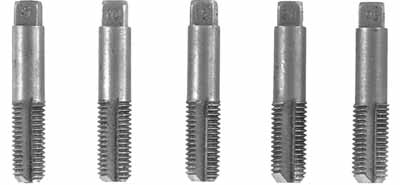 Track of the Wolf, Inc.
18308 Joplin St NW
Elk River, MN 55330-1773
Copyright © 2021Track of the Wolf, Inc.