Dovetail Forming Chisel
wax cast steel, made in the USA
Use our dovetail forming chisel to "persuade" the slot to accept your lug or sight. It raises the metal, rather than removing it. Underlug slots may be half deep, half raised. Or use it to form a raised moulding for your rear sight. Very shallow dovetails in round barrels may be stronger than solder for underlugs. Instruction sheet included.

A example of our rear sight #RS-AM-14 installed in a barrel with a raised formed dovetail. Sight and barrel sold separately. Loose sight or lug? It is easier to correct errors, when the metal has not been removed by milling or filing. Gently "persuade" the slot to be tighter.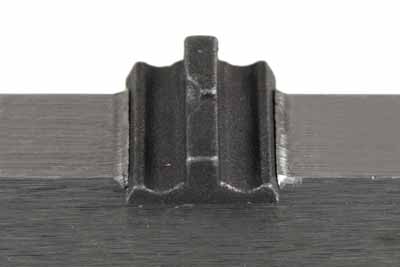 Track of the Wolf, Inc.
18308 Joplin St NW
Elk River, MN 55330-1773
Copyright © 2023Track of the Wolf, Inc.