Viking Tomahawk,
4-5/8" cutting edge, 4140 alloy steel,
18" tapered hickory handle,
made in the U.S.A.
Made with a reinforced eye, after an early original design, this 15-1/2 ounce head has an oversize cutting edge which is tipped upward for maximum advantage. This "cheater" won't pass formal NMLRA match inspection, but is tough to beat in local club "free-for-all" competition. The blade is 4-5/8", measured along the arc.

Made in the U.S.A. wax cast of tempered 4140 alloy steel, a few licks of a fine file, before each day's use, will keep the edge sharp.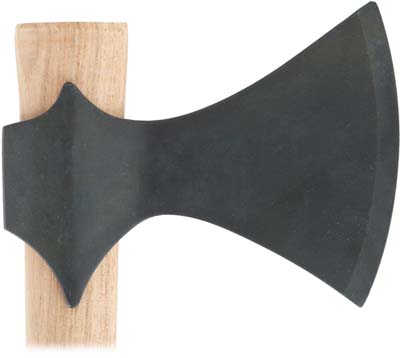 Track of the Wolf, Inc.
18308 Joplin St NW
Elk River, MN 55330-1773
Copyright © 2023Track of the Wolf, Inc.