Old Reliable Tomahawk,
3-1/2" cutting edge, 4140 alloy steel,
22" tapered hickory handle.
made in the U.S.A.
A very popular throwing tomahawk. The cast 4140 alloy steel blade is hard enough to endure competition and the head weighs just under 1 pound.

Includes our 22" hickory Carlos Gove pattern tomahawk handle with a swell along the bottom. Sanded smooth, this handle is ready for stain or oil finishing, if desired.

For competion throwing we would recommend our version with the standard 18" handle, which are much less expensive to replace when damaged.


.

The blade edge is just over 3-1/2" in arc length, below the NMLRA legal limit. It requires quick sharpening before use, to qualify for NMLRA match rules.

Made in the U.S.A. wax cast of tempered 4140 alloy steel, a few licks of a fine file, before each day's use, will keep the edge sharp.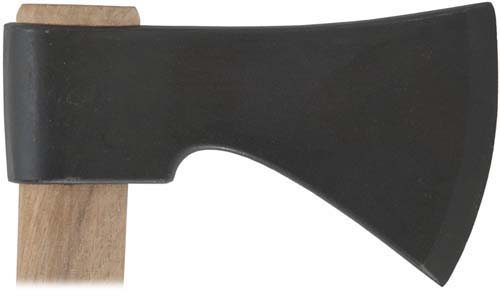 Track of the Wolf, Inc.
18308 Joplin St NW
Elk River, MN 55330-1773
Copyright © 2023Track of the Wolf, Inc.