Medieval Tomahawk,
5-3/8" blade, 4140 alloy steel,
18" tapered hickory handle.
made in the U.S.A.
Our largest! This big tomahawk is inspired by the bearded axe used in Medieval Europe. It will be a winner in strong hands. The massive 1.8 pound head will cause the tomahawk to spin slowly when thrown hard. The tomahawk head has a long reinforced eye design.

The blade edge is over the 4" in arc length for NMLRA tomahawk throwing events. It requires sharpening before use. A few licks of a fine file, before each day's use, will keep the edge sharp. Made in the U.S.A. wax cast of tempered 4140 alloy steel.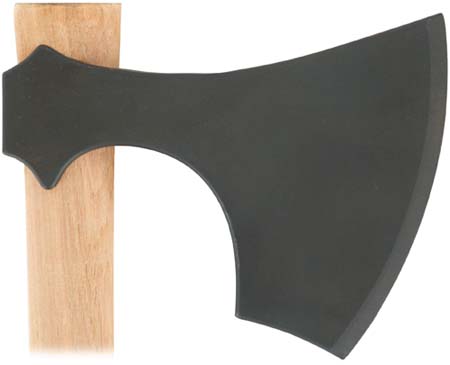 Track of the Wolf, Inc.
18308 Joplin St NW
Elk River, MN 55330-1773
Copyright © 2022Track of the Wolf, Inc.