Triggerguard,
H. E. Leman Indian Trade rifle,
wax cast steel
Henry Eicholtz Leman's factory In Lancaster County, Pennsylvania produced rifles for trade to westbound settlers. Examples of his rifles are shown in The Northwest Gun, by Charles Hanson Jr. This triggerguard is traditionally mounted with pins through the two end lugs. A line on the casting gate marks the trimming length. A third casting gate on the inside of the grip rail will need to be removed. Wax cast steel. Made in the USA.

Order our matching Leman style trigger and plate. We offer every part needed to replicate Henry Leman's plain and sturdy percussion trade rifle.

Overall length is 7-3/8", inside trigger bow is 2-1/8" long, and 1-3/16" deep.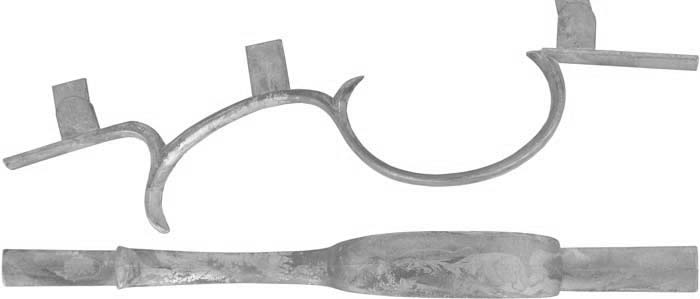 Track of the Wolf, Inc.
18308 Joplin St NW
Elk River, MN 55330-1773
Copyright © 2022Track of the Wolf, Inc.