Brown Bess Swivel,
wide for 1746 First Model forearm,
wax cast steel includes 6-40 screw
Our wide 1746 Willits Brown Bess front swivel is drilled, tapped and includes a 6-40 screw. Wide enough for early rifles, fowlers, and muskets, it may be bent and reformed to fit nearly any forend, including wide forends.
Remove the casting gate, polish, and hang this swivel from an underlug securely attached to the barrel. Swivel is about 1-5/64" inside dimension at the mounts. Width is just under 2-3/8" at the widest point. Wax cast steel, made in the U.S.A.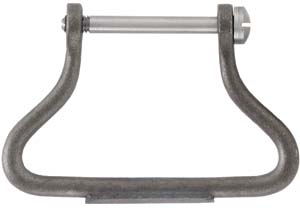 Track of the Wolf, Inc.
18308 Joplin St NW
Elk River, MN 55330-1773
Copyright © 2021Track of the Wolf, Inc.