Screws & pins,
complete set for
Early Fowler or Fusil,
unplated steel
Our complete set of screws & pins for the Early Fusil are made of unplated or black oxide finished steel, with slotted heads. These are becoming scarce.

Our set includes:

2 #BOLT-L-8-F lock bolt, 8-32, 3/8" head, for mounting the lock, plus
1 #BOLT-T-8-OS tang bolt, 8-32, countersunk oval head, plus
2 #SCREW-10x1 wood screws, #10 x 1", for mounting the buttplate, plus
5 #SCREW-6x5/8 wood screws, #6 x 5/8", for mounting the triggerguard, plus
10 #PIN-3/32 steel dowel pins, 3/32" diameter, for barrel lugs and rod pipes


We recommend that you also order: #DRILL-3/32" to install the steel dowel pins, #TAP-8-32-T taper tap, 8-32, to install the lock and tang bolt and other drill bits as needed for tap drills and clearance drills, for the several bolts and screws.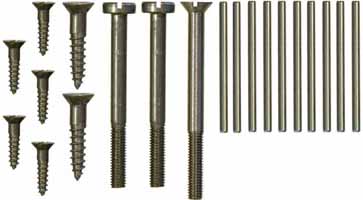 Track of the Wolf, Inc.
18308 Joplin St NW
Elk River, MN 55330-1773
Copyright © 2021Track of the Wolf, Inc.