Tang sight,
Lyman No. 2 sight,
for Model 1894 Winchester Rifle,
also fits 1866, 1890, 1892, & Rossi lever rifles,
and 1885 High Wall & Low Wall rifles with 2.195" hole centers.
William Lyman invented these sights, and founded the Lyman Gunsight Company in 1878. These are wonderfully precise replicas.

The Lyman No. 2 sight for Winchester fits their Model 94, 1894, 1866, 1890, 1892, 62, and 62A lever action rifles, Model 1885 high wall and low wall single shot rifles, and Rossi Model 92 and 62 rifles and carbines.

This sight has standard Winchester 2.195" bolt centers. Maximum elevation from the base to the center of the eye disk is approx 2-1/2".

Sights include a longer 12-28 tang screw, forward 10-32 mounting screw, both large and small eye disks, detailed instructions for vertical alignment, and a foam fitted hard plastic storage case.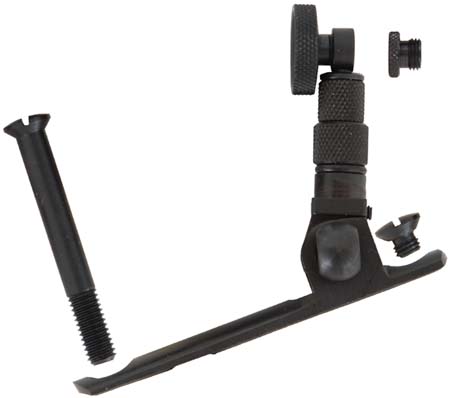 Track of the Wolf, Inc.
18308 Joplin St NW
Elk River, MN 55330-1773
Copyright © 2023Track of the Wolf, Inc.