Rogers' Rangers Pin,
commissioned 1755,
badge of allegiance,
1-1/2" diameter
The legendary frontier fighters during our bloody "French & Indian War". These aggressive loyalists performed military feats of attack, endurance, and survival against great odds. Over 1-1/2" diameter and finished in traditional Rogers' Rangers colors, forest green, black, and off-white on gold.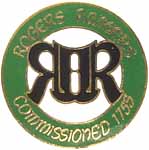 Track of the Wolf, Inc.
18308 Joplin St NW
Elk River, MN 55330-1773
Copyright © 2023Track of the Wolf, Inc.