Northwest Company Trade Pin,
badge of allegiance
1-5/8" height
An authentic reproduction carrying the logo of this famous fur trading company in gold with black lettering and an enamel blue background. Pin back for easy attachment to clothing.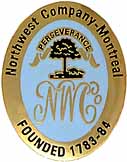 Track of the Wolf, Inc.
18308 Joplin St NW
Elk River, MN 55330-1773
Copyright © 2023Track of the Wolf, Inc.