Free Trapper, Independent American,
badge of allegiance, 1-1/4" diameter
While most free trappers were allied to one fur company (through debt) the "free trapper" was a true entrepreneur. He risked his own funds, and sold to the highest bidder. 1-1/4", finished in red on gold.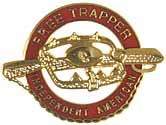 Track of the Wolf, Inc.
18308 Joplin St NW
Elk River, MN 55330-1773
Copyright © 2023Track of the Wolf, Inc.