H. E. Leman Capbox Kit,
wax cast steel, 3-3/4" overall length
Sometimes called the wilted lilly capbox, this design we originally used on H. E. Leman Plains rifles, Indian Trade rifles, and was sometimes engraved on his finer longrifles.

All originals in this shape, that we have seen, were brass, but iron capboxes of many designs were used on antique rifles of this period.

Wax cast of malleable steel, the lid must drilled and pinned to the bezel. A 1/16" pivot pin is included. This kit requires minor fitting and a flat spring (you may elect to use our #PB-SPRING-T tempered patchbox spring, and #SCREW-6-40-R mounting screw, sold separately).

The fit of the steel lid to the steel bezel is not as precise as our wax cast brass, because steel shrinks a bit more than brass.

You may add a finger relief groove in the bezel with a file. Countersink both pre-cast holes, and use two #SCREW-8x5/8 wood screws, sold separately, to secure it to the stock. Overall length is 3-3/4".

This shape is an exact copy from the original Henry Eicholtz Leman trade rifle brass capbox in our collection, except in wax cast steel.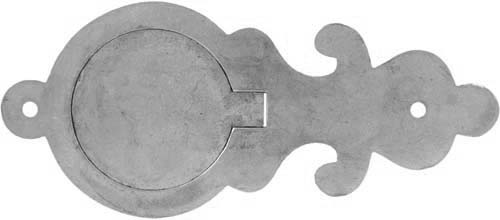 Track of the Wolf, Inc.
18308 Joplin St NW
Elk River, MN 55330-1773
Copyright © 2021Track of the Wolf, Inc.