English Sheffield Style Round Oil Bottle,
1-6/10" tall, 31/32" diameter, with applicator,
small, brass, made in the U.S.A.
Originally called an "oiler", this small English style bottle has a 31/32" diameter knurled top, easily removed for refilling with gun oil. The tiny knob at top conceals a flat spoon used to dispense single drops of lubricating oil to the moving parts of your gun or lock. This brass oil bottle will look handsome with your cased rifle, revolver or shotgun. Measures 1-6/10" tall, 13/16" diameter body. Turned from solid brass. Made in the U.S.A.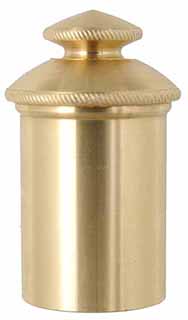 Track of the Wolf, Inc.
18308 Joplin St NW
Elk River, MN 55330-1773
Copyright © 2022Track of the Wolf, Inc.