Revolutionary War Paper Money Set ,
reproduction of 10 bills from 1775 to 1779
From 1775 to 1779, the Continental Congress issued $241, 552,780 worth of Continental Currency in eleven different printings. Because coins were so scarce during the American Revolution, these bills and the state issued note were practically the only money in circulation. Anyone refusing to accept the money was branded a traitor and a Tory. For 1-1/2 years Continental Currency circulated at face value, but beginning in 1777 it steadily lost value until by 1780 it had declined to about 1/40th of its original value. Spawning the phrase "Not worth a Continental".

This set includes:

One Dollar - May 9, 1776
Three Dollars - November 29, 1775
Five Dollars - May 10 1775
Six Dollars - February 26, 1777
Seven Dollars - February 26, 1777
Eight Dollars - February 26, 1777
Thirty Five Dollars - January 14, 1779
Fifty Dollars - September 26, 1778
Fifty-Five Dollars - January 14th, 1779
Sixty-Five Dollars - January 14, 1779


Same day shipment, when you click ADD TO CART and complete shopping cart check out. Inspect the item, return it for same day refund if not delighted. You will be pleased with your choice. You pay postage, your only risk.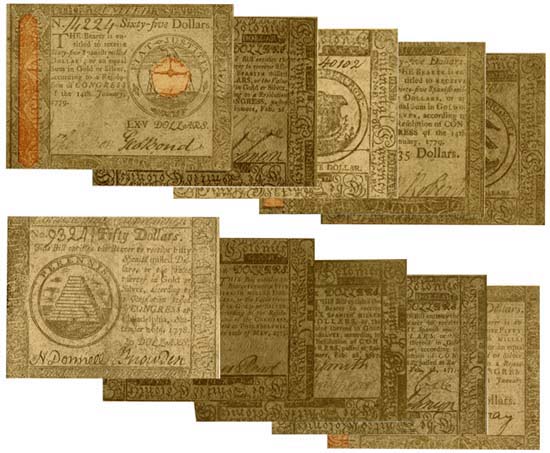 Track of the Wolf, Inc.
18308 Joplin St NW
Elk River, MN 55330-1773
Copyright © 2022Track of the Wolf, Inc.