Folding Lead Ladle,
hand forged, blued steel,
folds to 5-1/4" length
This hand forged folding lead ladle was copied from an original 18th century ladle. When extended, this hand forged iron ladle, with a blued finish, is 7-1/2" length. It folds to 5-1/4" length. Perfect for storing in your shooting bag, or knapsack. The 2" diameter, 1/2" deep bowl has a curled lip for easy pouring. The handle has a forged socket, approximately 3/8" diameter, for inserting your wooden handle, if desired.

This primitive bullet casting ladle is a perfect accessory for the hunter, and a necessary item for the historical and competition trekker.

Same day shipment, when you click ADD TO CART and complete shopping cart check out. Inspect the item, return it for same day refund if not delighted. You will be pleased with your choice. You pay postage, your only risk.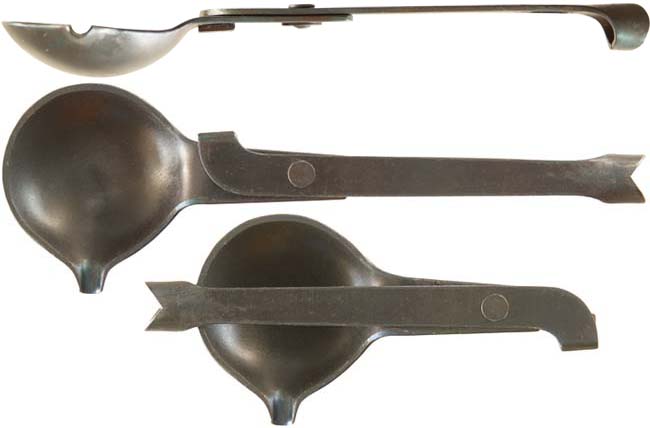 Track of the Wolf, Inc.
18308 Joplin St NW
Elk River, MN 55330-1773
Copyright © 2022Track of the Wolf, Inc.