French Medallion,
1" diameter, brass
Ideal for use as presentations, awards, and shooting match prize medals, these 1" diameter medallions are embossed with the French Royal Device (emblem), with a hole for your ribbon, lace, or a small loop of wire, leather, or tiny link of chain.

Select bright brass (first place), bright nickel silver (second place), or polished copper (third place), if you are making shooting match award medals.

Both sides of each medallion is embossed with a French royal Fleur-de-Lis emblem.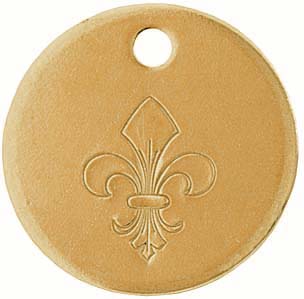 Track of the Wolf, Inc.
18308 Joplin St NW
Elk River, MN 55330-1773
Copyright © 2022Track of the Wolf, Inc.