Marvelux,
lead casters flux,
8 oz. jar
Nontoxic, and relatively smoke free, this superior flux will cause impurities to separate and float to the surface of your lead pot. Add 1/2 teaspoon to each 10 pounds of molten lead, stir and remove dross. Made in the U.S.A. Always melt lead outdoors. 8 ounce jar.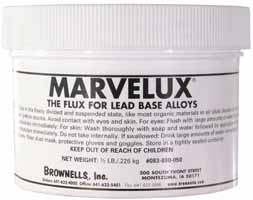 Track of the Wolf, Inc.
18308 Joplin St NW
Elk River, MN 55330-1773
Copyright © 2022Track of the Wolf, Inc.