Lyman's Custom Fit Loading Blocks,
hold 50 cartridges, .530 diameter holes
Lyman's custom fit loading blocks are designed to provide a precise fit for a family of cartridge sizes. Made from tough, durable polymer, the loading blocks hold 50 cartridges and will securely nest together for easy storage. The blocks come in three sizes to match up with a large variety of cartridges. Each block is clearly marked with the diameter of the cartridge storage hole.

The .530 block fits the following calibers:
.284 Winchester
7-30 Waters
.30-30 Winchester
.32 Winchester Special
.32-40 W.C.F.
38-55 Winchester
.375 Winchester
.38-40 W.C.F.
.44-40 W.C.F.
.31 Remington
.44 Special
44 Remington Magnum
.444 Marlin
.45 Colt (Long)
.454 Casull
.460 Smith & Wesson
.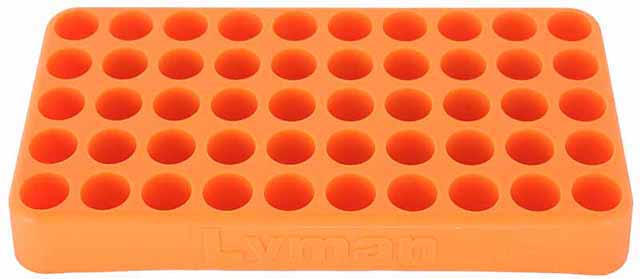 Track of the Wolf, Inc.
18308 Joplin St NW
Elk River, MN 55330-1773
Copyright © 2023Track of the Wolf, Inc.