| | |
| --- | --- |
| Siler large left Percussion Conversion Lock, by Jim Chambers | |
Siler large left Percussion Conversion Lock


Ideal for a left hand percussion longrifle, this Germanic style lock has the long pointed tail, raised lock plate with chamfered edges, and filed moulding across the tail, styles used during the 1750 - 1780 flint lock era. Originally designed as a flint lock, many longrifles were converted to percussion during the 1825 - 1845 era.

Siler's large left cap lock is pre-inlet into some of our most popular stocks. It is designed to fit any 13/16" to 1-1/8" barrel, with a 1/2" diameter powder drum.

Select a matching Siler left flint lock, to make one gun with interchangeable ignition. We recommend building percussion first, to simplify fitting of the powder drum to the lock plate's notch.

We stock all spare parts, for same day shipment!

Do not cut the drum notch deeper, in an attempt to adapt this lock to fit a hooked breech's snail bolster, since this area of the lock plate supports the mainspring.



This lock is shown at exact-full-size, in Track's new catalog for gunmakers and gunsmiths.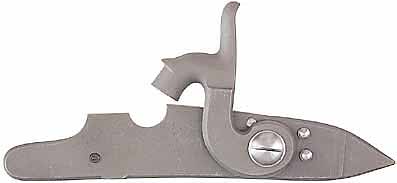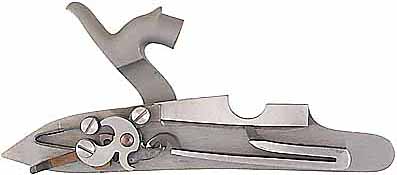 Track of the Wolf, Inc.
18308 Joplin St NW
Elk River, MN 55330-1773
Copyright © 2022Track of the Wolf, Inc.