New style Germanic Flint Cock, Top Jaw, and Top Jaw screw,
upgrade parts for the R.E. Davis Jaeger Flint Lock
This nice large flint replacement cock has a 1.6" throw. The three piece set includes the cock, top jaw, and top jaw screw is distinctly "Germanic" style for use on transitional American longrifles of the 1750-1760 era. These parts are made to fit the Jaeger lock, #LOCK-JAEGER, by the R. E. Davis Company.

Same day shipment, when you click ADD TO CART and complete shopping cart check out. Inspect the item, return it for same day refund if not delighted. You will be pleased with your choice. You pay postage, your only risk.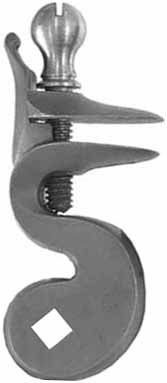 Track of the Wolf, Inc.
18308 Joplin St NW
Elk River, MN 55330-1773
Copyright © 2021Track of the Wolf, Inc.