Enfield Rifle Lock,
circa 1853 Crown P-H mark,
unused, excellent
Made for use on an 1853 Enfield Rifle Musket, this new lock has been drilled for two lock bolts, but never tapped, never installed on a replica Enfield three band rifled musket.

Probably made after 1979 for a replica of the Enfield Musket issued to the East India Company, the lock is finished to a dark blue. The hammer and lock plate are engraved with a line border.

Identical to locks dated 1861, and those used by the East India Company, this percussion lock is finished blue with a crown over P - H and 1853 date over ENFIELD.

This lock is assembled with hand fitted and finished parts, and a very strong mainspring. The mainspring and sear spring are forged, not cast. This correct military Enfield lock has a two screw bridle, and stirrup link joining the mainspring and tumbler.

Made for use with a single trigger, no fly detent is fitted, nor needed. This Enfield lock is proper for use on Model 1851, 1853 and 1861 Muskets, Carbines and Rifles. Certain London makers also used this lock on their Military style guns, including Alex Henry, Thomas Turner, Sir Joseph Whitworth, and others who made Whitworth and Volunteer Rifles on the Enfield Musket pattern.

Also, many Enfield Muskets were made privately, and exported to the Confederate States, and to the East India Company in India.

Drilled for lock bolts, the undersize lock bolt holes have never been tapped. This is a new lock, not removed from a replica Enfield musket. Gunsmiths who specialize in work for Civil War re-enactors will enjoy using this new lock.

A clever craftsman can create a very late percussion trade gun, using these parts, plus your own barrel and stock. Canadian Fur Traders sold such late trade guns, made using military surplus parts, during the 1870 to 1890 period.

Inside the lock is well finished. The polished mainspring is neatly forged and tempered, well made, very strong. The full cock and half cock notches are deep and positive, and the hammer is well timed, with very little over-travel after the full cock notch is engaged.

An experienced gun maker might elect to stone the full cock notch to lighten the trigger release, or stone the bottom of the sear to increase half-cock engagement, but both notches work correctly, and the forged mainspring is very strong.

The internal screws appear to be original British style threads, perhaps copied from the original 1861 Enfield musket. We have not tested these screws in an original Enfield, but they appear to be original style.

Click ADD TO CART, for same day shipment. Ten day inspection begins at delivery. Send your approval. Else return it for same day refund, if not delighted. Postage is your only risk.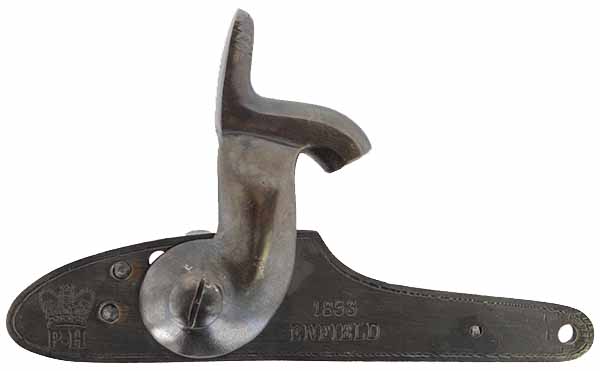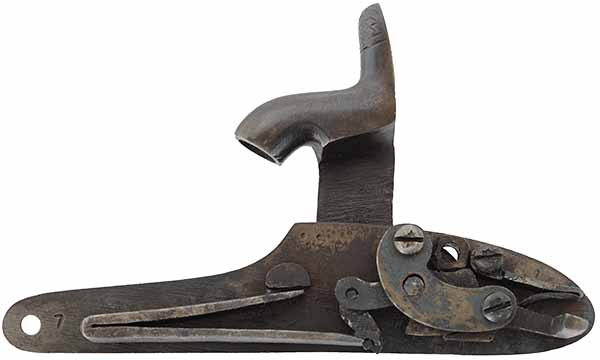 Track of the Wolf, Inc.
18308 Joplin St NW
Elk River, MN 55330-1773
Copyright © 2023Track of the Wolf, Inc.