Sear spring to fit your
GRICE - 1762
Brown Bess Musket lock
by Davide Pedersoli
or Tower, Stowe, et cetera
A replacement sear spring for your David Pedesoli Second Model Brown Bess lock. Commonly marked GRICE - 1762 early production Brown Bess flint locks were sometimes marked STOWE and a scarce flat faced version was marked FREDRICKSBURG.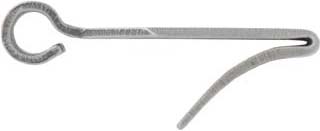 Track of the Wolf, Inc.
18308 Joplin St NW
Elk River, MN 55330-1773
Copyright © 2023Track of the Wolf, Inc.