LEE Classic Cast Reloader Press,
for pistol or rifle cartridges
This classic LEE reloader press has the largest opening and the longest stroke in the industry. The handle is also adjustable to provide the least handle travel of any press. The adjustable handle is movable from right to left. The start and stop position is adjustable with a 48 tooth ratchet type handle clamp.

Rigid cast iron construction in a classic "O" design for maximum strength. The baked powder coating is durable and attractive. The large flat cored base has 3 mounting holes to securely mount it to your bench.

Includes two primer arms for large and small primers. The largest 1-1/8 diameter hollow ram catches every primer with hose fitting to allow primer disposal directly to your trash can. Supported by over 12 square inches of ram bearing surface.

The threaded die adapter accepts standard 7/8 -14 dies, or when removed the press accepts 1-1/4-12 large series dies.

Press toggle or "cam over" is prevented with a powerful compound linkage with positive travel stop.

Accepts standard shell holders. The ram insert can be rotated to allow primer installation on the right or left side.

Same day shipment, when you click ADD TO CART and complete shopping cart check out. Inspect the item, return it for same day refund if not delighted. You will be pleased with your choice. You pay postage, your only risk.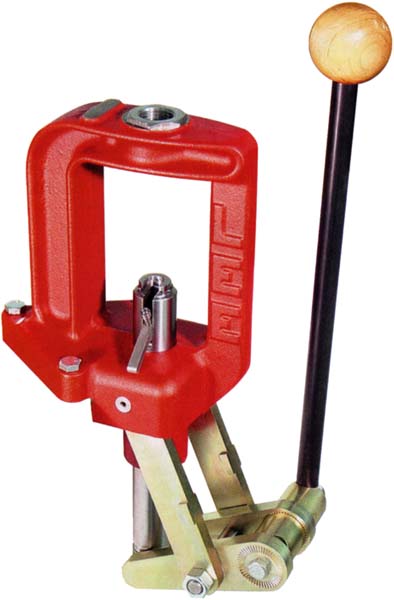 Track of the Wolf, Inc.
18308 Joplin St NW
Elk River, MN 55330-1773
Copyright © 2021Track of the Wolf, Inc.