Lee .595" round ball mold,
double cavity, with handles,
for .62 rifles and 20 gauge guns
Recommended for a 20 gauge gun or .62 caliber rifle, the .595" ball works well in a barrel with a .610" or larger bore. This is a true 20 gauge.

We also offer the #LEE-600-DC ball mold for slightly larger bores, commonly .625" at the muzzle. A tiny bit larger than true 20 gauge (20 balls per pound), the .625" bore size is popular due to the low cost of 5/8" precision reamers. We recommend pure soft lead for muzzle loading balls.

Lee double cavity molds have aluminum blocks, in permanently attached steel handles with sturdy wooden grips. Handles are included and installed at no extra cost, ready for immediate use.

Aluminum blocks will not rust. Lead will not adhere. They heat quickly. Softer than blued steel molds, aluminum molds require gentle handling. Treat these high precision molds with care and respect, they will last a lifetime.

The cavity cannot rust. Cavity is finish pressed using a carbide ball, with 30 tons pressure. The tangent sprue cutter leaves no stem.

Scrub a new mold with strong liquid dish detergent and hot tap water, using a toothbrush. Remove the thin film of factory preservative oil, else that oil will vaporize causing wrinkles. Dry the mold and place it over (not in) your lead pot, until the heat of the pot drives off any remaining oil vapors (about 30 minutes for first use). You can often see oil vapors as "clear smoke" when viewed in direct sunlight. Once cleaned and oil free, this mold needs never be oiled again. We avoid the use of "mold lubricant" oil, grease, or wax.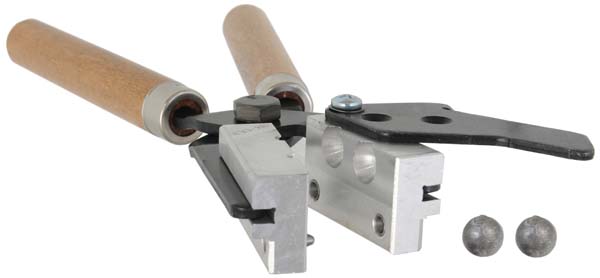 Track of the Wolf, Inc.
18308 Joplin St NW
Elk River, MN 55330-1773
Copyright © 2023Track of the Wolf, Inc.