Wedge key,
wax cast steel,
extra long, slotted for capture pin
This extra long slotted wedge key key measures .325" wide by .114" thick by 1-3/4" long. As cast slot is 1/16" wide by 1-1/32". The head is slanted slightly, to fit the curvature of your big rifle's extra wide forend. Use it on 1-1/4" or wider barrels, or shorten this key as needed to fit a typical rifle.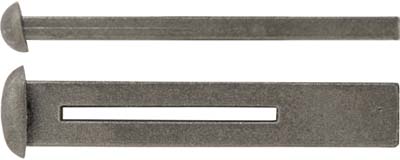 Track of the Wolf, Inc.
18308 Joplin St NW
Elk River, MN 55330-1773
Copyright © 2023Track of the Wolf, Inc.