Inletting Black,
1/2 ounce bottle

Special Restrictions Apply
Can not be shipped to the following states within the U.S.A.: ( CA )
Jet black pigment in a grease base that won't dry out. Simply brush a tiny amount on the part, press it into the mortise, and the "fingerprint" left behind will make interference areas obvious. A few authors call this stuff "inletting compound" or "spotting compound". This product contains a component, though not in the exact form known to the state of California to cause cancer, birth defects, other reproductive harm.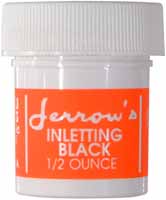 Track of the Wolf, Inc.
18308 Joplin St NW
Elk River, MN 55330-1773
Copyright © 2023Track of the Wolf, Inc.