Inlay, Large Oval with Star Piercing,
2.41" by 1.42", brass 0.040" thick
Oval with star piecing, large, brass, for a longrifle's cheek rest. The star piercing is 2.16" by 1.16" tall. Order the #IN-STAR-5-S if you want to fit a nickel silver star inset. Made in the U.S.A.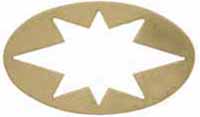 Track of the Wolf, Inc.
18308 Joplin St NW
Elk River, MN 55330-1773
Copyright © 2022Track of the Wolf, Inc.