Mexican Single Loop Holster, right hand,
5-1/2" barrel, brown leather,
fits Colt Single Action Army revolvers and others
The single loop design incorporates a swelled loop over the midsection of the holster. The integral wide belt loop will easily fit up to 3" wide cartridge belts. The border stampings and cartouche (marker's mark), adds to the authenticity of this Mexican style holster. Made in premium full grain leather, this unlined holster is cut to accept revolvers with 5-1/2" barrels. Will fit Colt SAA, Colt clones, Ruger Vaquero, and Remington 1875 revolvers. Holster only, Model 1873 Colt Single Action Army revolver shown not included.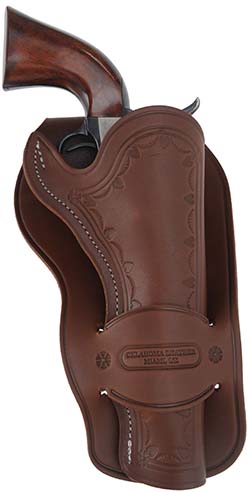 Track of the Wolf, Inc.
18308 Joplin St NW
Elk River, MN 55330-1773
Copyright © 2023Track of the Wolf, Inc.