Flask Spring,
for the large replica flask head,
from Italy
Our new forged steel replacement spring is made of imported steel, to upgrade your larger Italian flask head. These springs are approximately 1" in diameter.

Made to fit the large powder flask head, made by in Italy, by Davide Pedersoli, these may also be hand fitted to the similar flask head by Palmetto Armory. The spring teat may need to be thinned to fit in the mounting hole.

Large size flask heads, from Italy, require this spring. Popular large flasks include:

Zouave flask, U.S. Model 1855 flask, Peace & Friendship flask;
French flask, fluted flask;
Diamond flask, basket weave, grape basket, (ape' basket);
Colt style flask, with Colt style coat of arms;
Remington style flask, with faithful dog scene;
Florentine flask, known as the Neptune flask;

This spring is made to fit replica flasks from Italy, made by Pedersoli, Palmetto, and other famous Italian gun makers.

This spring will also fit the many limited production flasks from Italy, including the Texas flask, Alamo flask, International Muzzleloading Match flasks, Navy Arms flask, and many other Italian made flasks with interesting embossed patterns. All use the same large flask head, with interchangeable standard screw-in spouts.

This spring will also fit the CVA flask, and similar brass and leather covered cylinder flasks. Although Connecticut Valley Arms guns are made in Spain, the flasks are from Italy.

This spring will not fit the 1847 Colt Walker powder flask. The Walker flask uses a unique spring loaded charger nozzle. It is possible to replace the Walker flask head with a complete large flask head, to convert it to use normal spouts.

This spring will not fit our exact replica Hawksley flasks, with Syke's patent flameproof powder valve. The Syke's patent flask head rarely needs spare parts, and it is a much more sophisticated and reliable mechanism (and more costly to make) than the inexpensive Italian flask head with simple gate valve.

Click ADD TO CART, for same day shipment. Return it for same day refund, if not delighted. Postage is your only risk.

However, if you try to bend, file, weld, anneal, or modify this spring to fit your flask, you do so at your own risk. We do not offer warrantee parts for Italian flasks, since we cannot obtain them from the factories in Italy.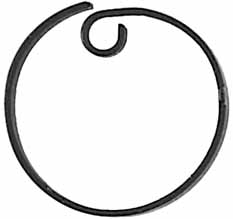 Track of the Wolf, Inc.
18308 Joplin St NW
Elk River, MN 55330-1773
Copyright © 2023Track of the Wolf, Inc.