Deerskins into Buckskins on DVD
How to Tan with Brains, Soap, or Eggs
by Matt Richards
A field guide for hunters and gathers. Two full hours of expert, step-by -step instruction. Detailed close-ups, a simple to follow style and 14 years of experience teaching thousands of people how to tan, allow Matt Richards to show you exactly what you need to know to successfully turn your deer, elk, moose, or buffalo skins into the leather preferred by outdoorsmen and native peoples for millennia. You'll learn the traditional method of brain tanning as well as how to use a dozen eggs or soap and oil instead.

We also offer a companion book to this DVD video, #BOOK-DIB

Same day shipment, when you click ADD TO CART and complete shopping cart check out. Inspect the item, return it for same day refund if not delighted. You will be pleased with your choice. You pay postage, your only risk.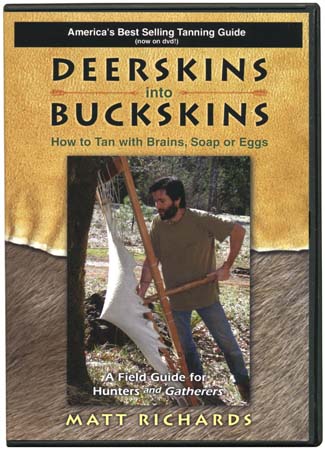 Track of the Wolf, Inc.
18308 Joplin St NW
Elk River, MN 55330-1773
Copyright © 2023Track of the Wolf, Inc.