The Art of Flint Knapping
Video Companion
DVD video
with D.C. Waldorf
The next best thing to a live demonstration! This video takes you to the home of D.C. Waldorf in the Ozark Hills of Southwestern Missouri where he demonstrates the simple techniques required to fashion simple or fancy stone arrow points and tools. The first hour deals with raw material processing, working nodules, blocks and slabs to Stage 3 with a side-light on making gun flints. In the second half, holding positions, billet swing and strike, platform preparation and pressure flaking are discussed. Also covered are Clovis fluting by direct percussion, various notching techniques and the making of a small arrow point.

Digitally re-mastered from the original footage and computer edited. This DVD has no regional encoding.

108 minutes of tips, and hints. Be sure to get the companion book #Book-AOF.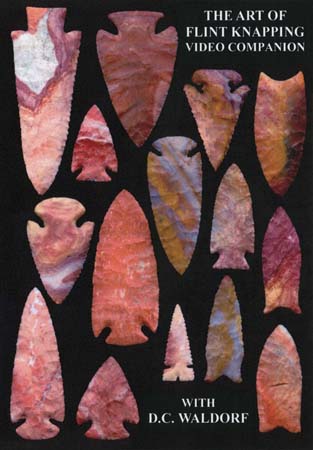 Track of the Wolf, Inc.
18308 Joplin St NW
Elk River, MN 55330-1773
Copyright © 2022Track of the Wolf, Inc.