English Shot Dipper,
adjustable brass cup, calibrated in ounces of shot,
patterned from an antique, made in the U.S.A.
This handy English style shot dipper has a brass telescoping head, and walnut stained hardwood handle. The adjustable cup telescopes to lock in place, and is retained with a small steel screw as found on antique examples. Calibrated in oz. of lead shot the telescoping head adjusts to five positions: 1oz., 1-1/8 oz., 1-1/4 oz., 1-3/8 oz., and 1-1/2 oz.

This would be an ideal accessory for a 19th century black powder muzzleloading or black powder cartridge shotgun. It was common for antique shotgun reloading equipment to have both a dedicated shot dipper and powder dipper. You may recall that "there are 7,000 plump grains of wheat in the King's pound". Each pound is divided in 16 ounces. Each ounce is divided into 16 drams. Thus, each dram is about 27.34 grains."


| | | |
| --- | --- | --- |
| Ounces of shot ~ | Drams of black powder ~ | Grains of black powder ~ |


Same day shipment, when you click ADD TO CART and complete shopping cart check out. Inspect the item, return it for same day refund if not delighted. You will be pleased with your choice. You pay postage, your only risk.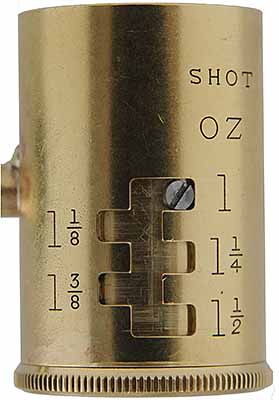 Track of the Wolf, Inc.
18308 Joplin St NW
Elk River, MN 55330-1773
Copyright © 2023Track of the Wolf, Inc.