Traditional Wooden Dice,
3 reproduction dice
A set of three reproduction wooden dice. Includes instructions for 7 easy-to-play historical games: Passage, Over and Under Seven, Hazard, Snake Eyes, Beetle, Pig, and Sixty-Nine.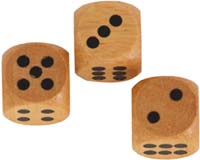 Track of the Wolf, Inc.
18308 Joplin St NW
Elk River, MN 55330-1773
Copyright © 2022Track of the Wolf, Inc.