Reproduction 18th Century Playing Cards,
hand stamped colored inks on textured paper
Copied from original 18th Century European style playing cards, these cards are hand stamped using colored inks on stiff cream colored, textured paper.

The Ace of Spades is printed with the The Crown and Garter from Great Britain's royal arms and the royal cipher G*III REX for King George III, as well as a tax marking SIXPENCE ADDl DUTY and the maker's name STOPFORTH.

Includes a brief history of playing cards, from their origins in China, to their arrival in North America.

A complete deck of 18th century style playing cards. A must have for every re-enactor. If you'd like to learn some period games, a great book is A Brief Discourse on 18th Century Games, available from Track of the Wolf.

Made in the U.S.A.

Same day shipment, when you click ADD TO CART and complete shopping cart check out. Inspect the item, return it for same day refund if not delighted. You will be pleased with your choice. You pay postage, your only risk.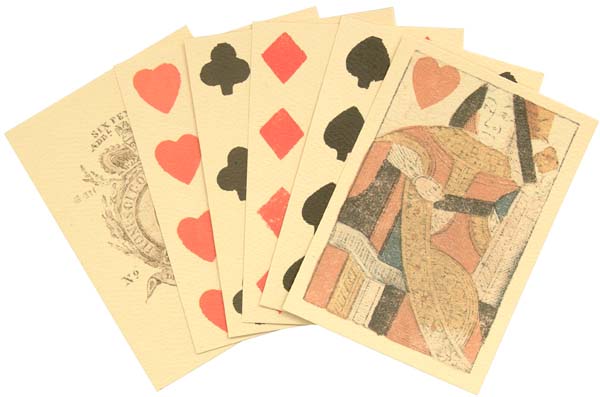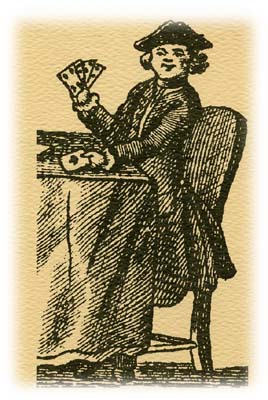 Track of the Wolf, Inc.
18308 Joplin St NW
Elk River, MN 55330-1773
Copyright © 2023Track of the Wolf, Inc.